In order to be able to sell your products on GetYourGuide, you must first be registered with GetYourGuide.
Still not sure if you want to sell on GetYourGuide?

Our blog article
is here to help!
Regiondo's connection to GetYourGuide allows you to synch the following information:
prices
reservations
bookings
cancellations

Important: the process is done only from GYG side, not from Regiondo! Also, the refunds to the clients will be processed by GYG.

ticket codes and barcodes
Once you have created your account with GetYourGuide and uploaded your products on their site, you are now ready to connect.
What does it cost?
For tickets sold via GetYourGuide, Regiondo charges you a ticket fee but no additional system fee or payment fee. GetYourGuide will charge you specific fees that you can ask about directly in their
Client Portal
. The
payouts
for the bookings coming through GetYourGuide are made separately, directly from them.
1. Make sure that your Regiondo products meet GetYourGuide requirements
1. Automatic acceptance.
GetYourGuide requires products with automatic booking acceptance. See How can I change the method of accepting a booking?
2. Cut-off times.
Make sure that your Regiondo products cut-off times matches (or is less than) the time listed on the GetYourGuide portal. If the cut-off time for your product in Regiondo is less than the cut-off time in GetYourGuide, GetYourGuide will automatically reduce their product cut-off to match it.

The maximum cut-off time allowed by GetYourGuide is 10 hours. If you want a product to be exempted from that restriction, you will need to contact your GYG Account Manager with the reason why the exemption is needed.
2. Activate the GetYourGuide connection to Regiondo
Login to your Regiondo Dashboard and navigate to Channel Manager >> Sales Channels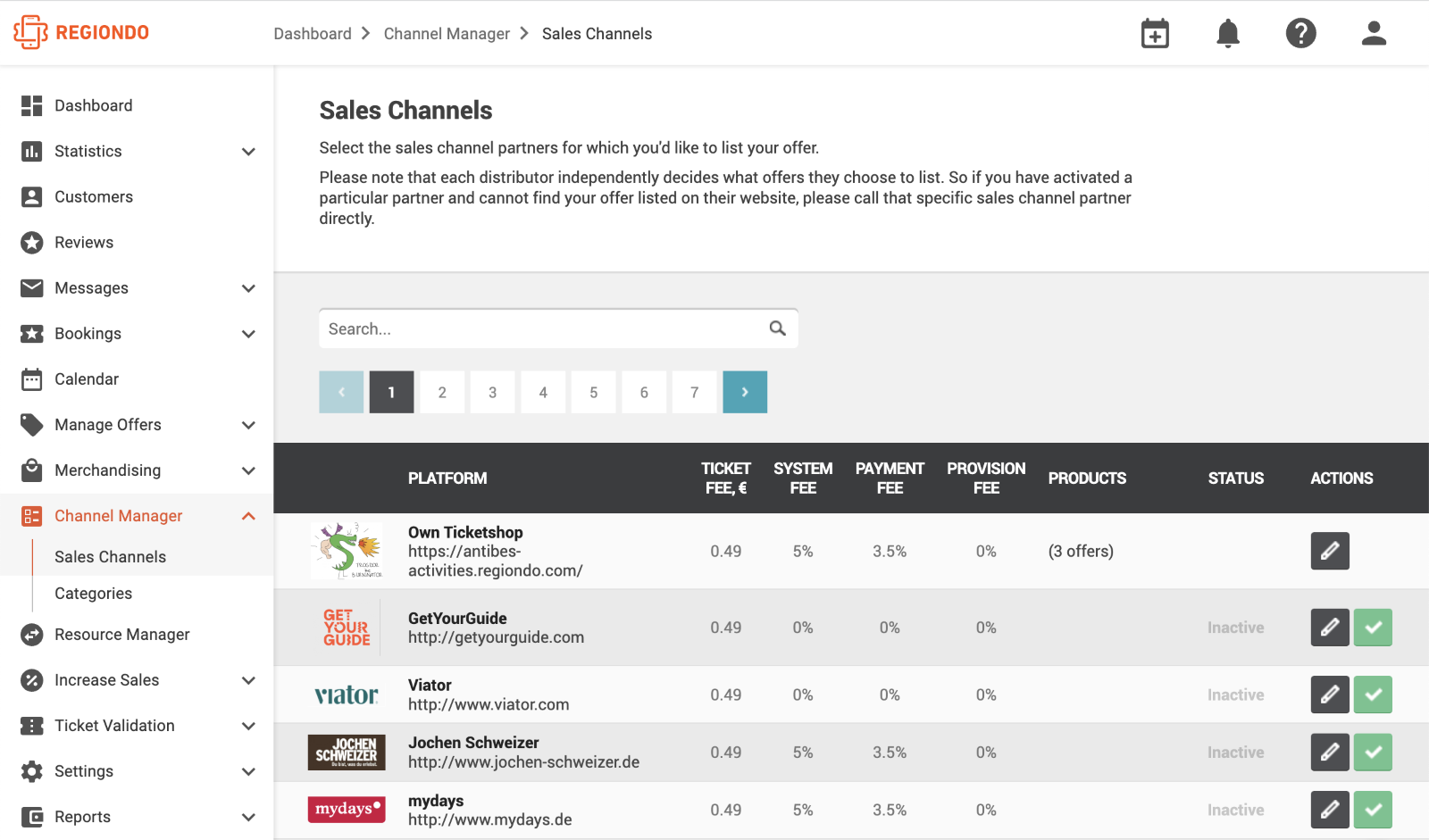 Next, click the pencil icon next to the GetYourGuide Sales Channel to edit.
Click on "Activate Channel".
3. Map your Regiondo products to GetYourGuide
Still on the GetYourGuide Sales Channel Page click the check box to the right of the product you would like to match to expand:


1. To find the Tour ID go to your GetYourGuide's Dashboard of the product you would like to connect.
2. The Tour Option ID You is also found in GetYourGuide under the "Options" tab.
3. Ticket categories. For each of your Regiondo ticket categories, please select a GetYourGuide category name using the dropdown menu.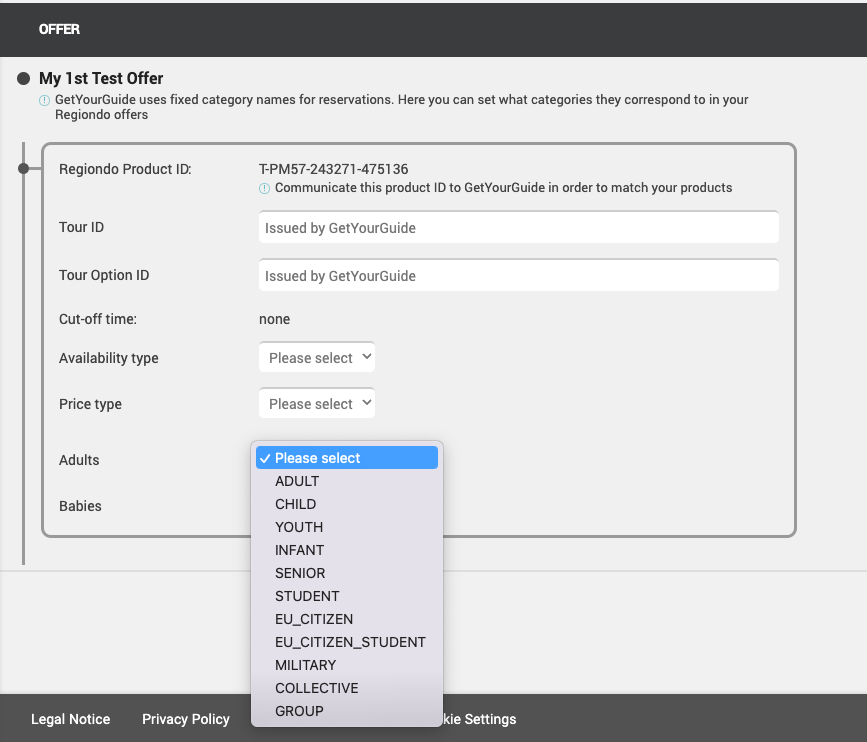 Note: Regiondo allows you to create as many customised ticket categories as you need.
GetYourGuide, on the other hand, only offers a specific set of standardised Tour Options
for use with their system. This could make it a little bit tricky when it comes to matching
your options between the two systems, depending on how complicated your Regiondo setup is.
4. Do not forget to Save!
Once you have matched all of your products, make sure to scroll down to the bottom of the page and click on "Save".

Note
If multiple GetYourGuide options share the same availability, they could hypothetically be mapped to one Regiondo offer, but please be aware that GetYourGuide does not recommend this!

If you want to do so anyway, keep in mind that you will not be able to see which specific tour option was booked when receiving a booking.

As GetYourGuide does not differentiate the quantities available per ticket category, only the lowest quantity of tickets available in one of the ticket categories is used to calculate the total capacity of your event. This only affects your product, if you created different quantities for your ticket categories.


Example:
Total capacity: 15
Adult: 15
Child: 10
GetYourGuide will consider the total event capacity as 10
4. Map your GetYourGuide products to Regiondo
1. Login to your GetYourGuide account and go to Product Page: Product ---> Manage Products

2.
Choose the products from the product page that you wish to connect.

3.
Go to the Options Setup page & click on "Edit option" button.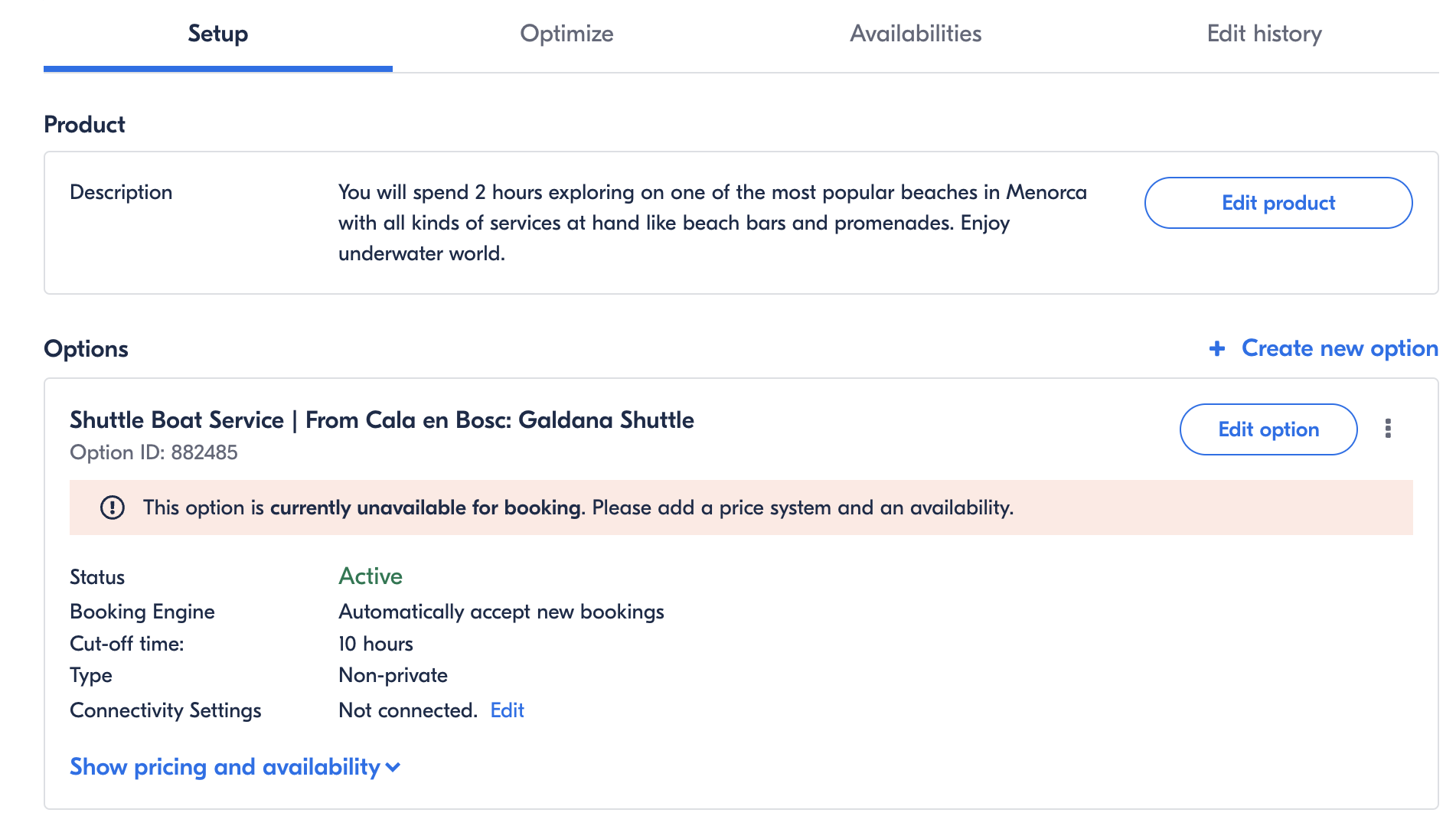 5. Go to Pricing to connect the option with Regiondo.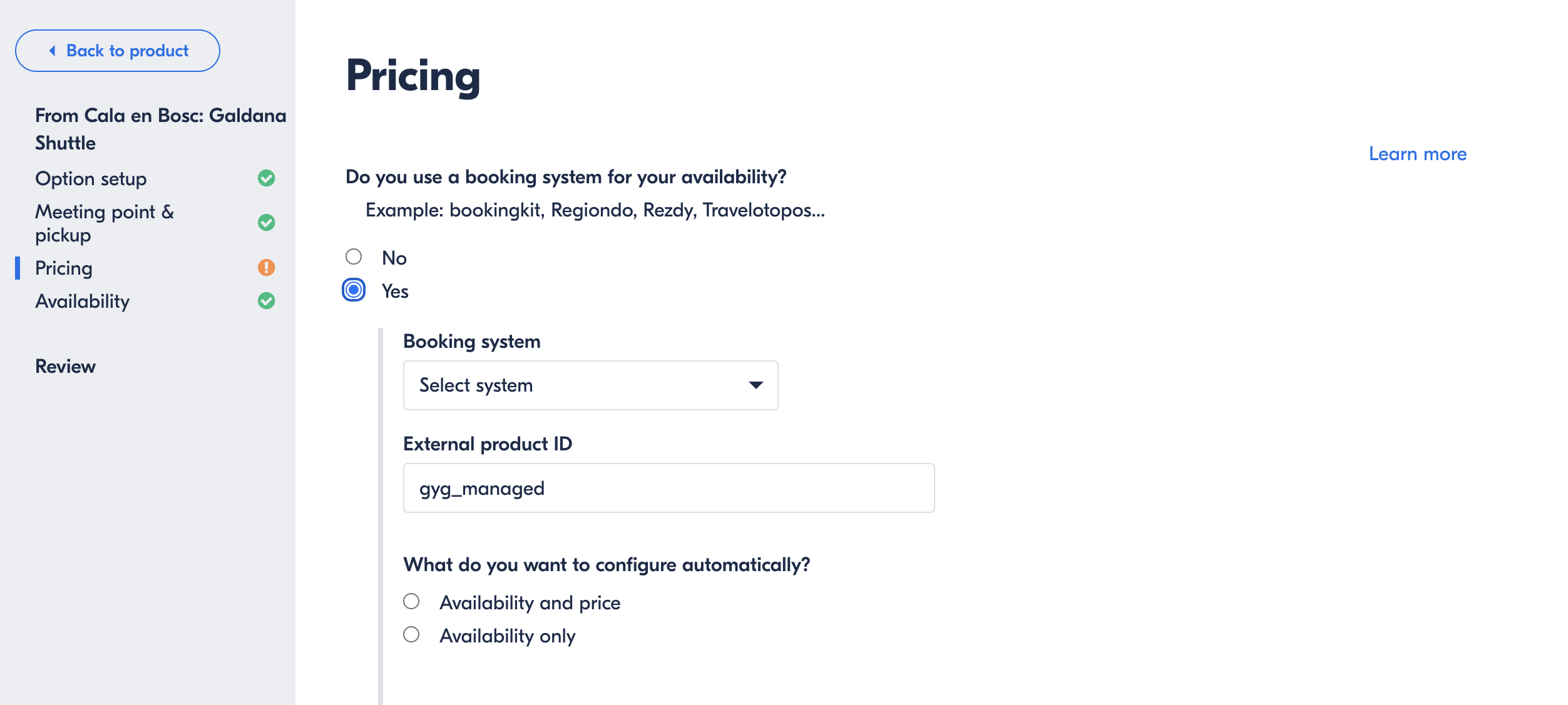 6. Choose Regiondo from the Booking system dropdown menu.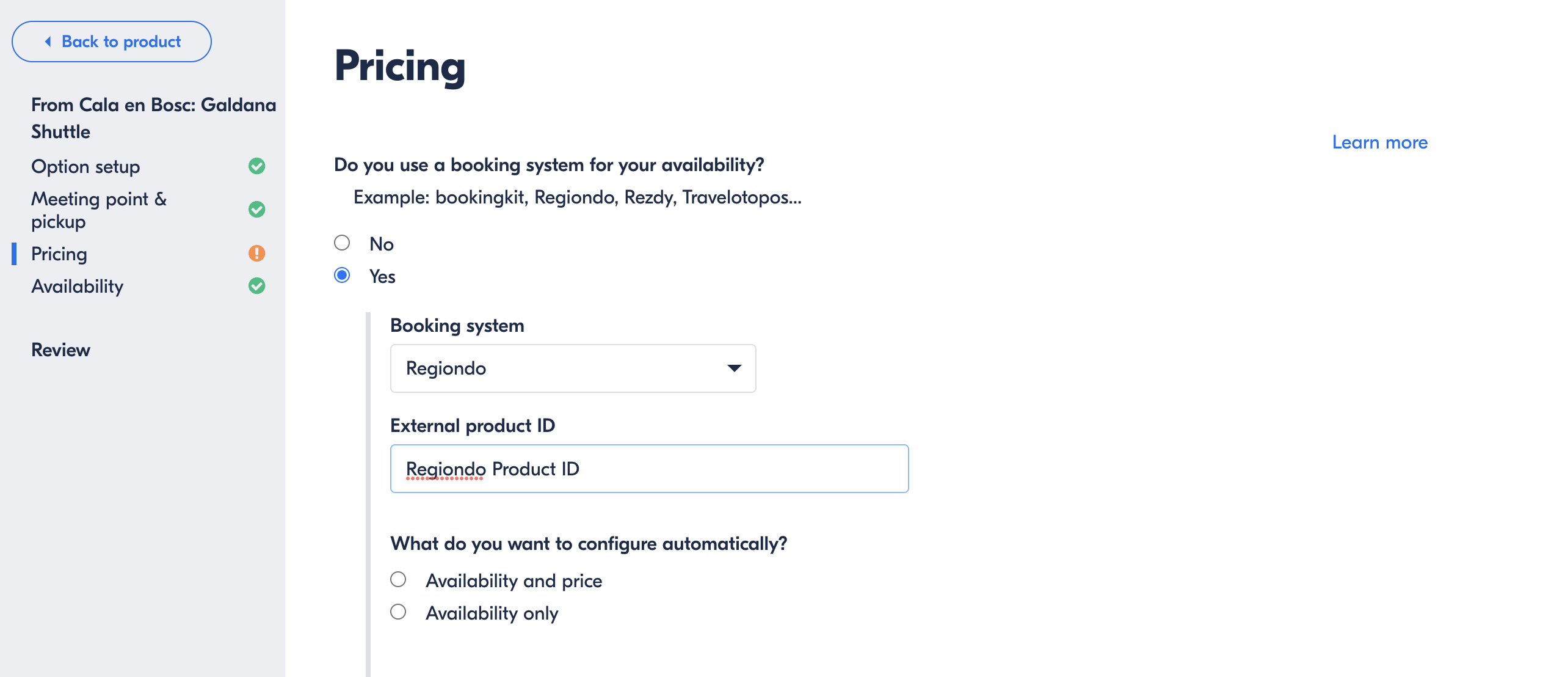 7. For External product ID value, please use the one found in the Regiondo Channel Manager (like in the previous step, not the normal Product ID which you find in your offer overview).
8. Choose whether you want to synchronize "Availability only" or "Availability & pricing". See Step 5 below for more information about price synchronization.
9. If you select, "Availability & pricing", make sure to "Add new pricing" for each GetYourGuide pricing category that you want synched with Regiondo.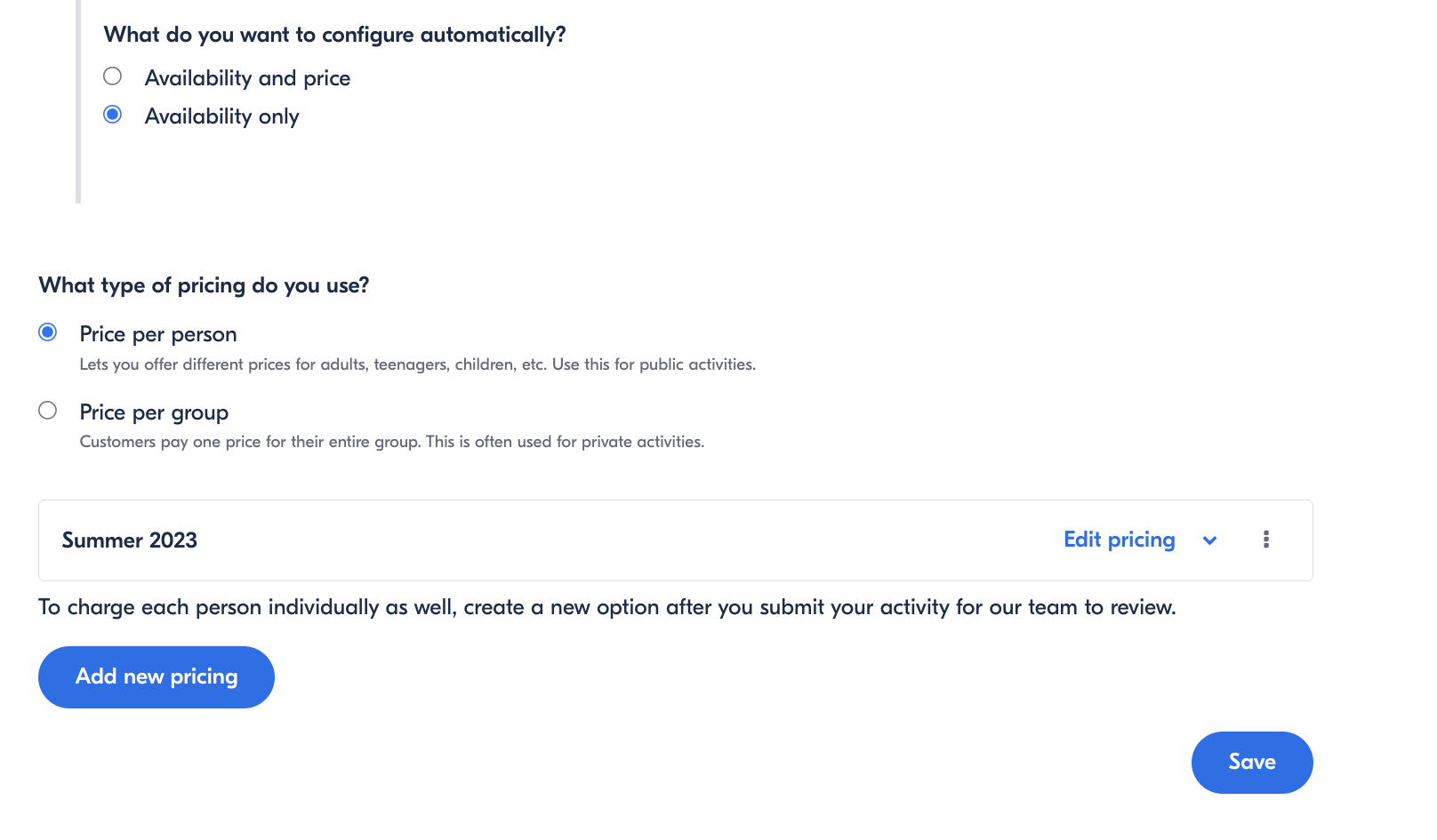 10. Make sure to click on the Save button at the bottom of the page.
5. (Optional - Recommended) Synchronize your Prices
Enabling Price synchronization means you will only need to edit your prices in Regiondo and we take care of updating in GetYourGuide. If you do not enable this, you will need to manage pricing updates in both systems manually.
Please note: Price synchronization is not available for group and collective offers
If you already enabled Pricing sync in Steps 8 & 9 above, you are all set. The following steps are applicable when you want to add Pricing synchronization after your initial setup.
1. In the GetYourGuide Supplier Platform, go to "Edit option" then Pricing.
---
2. Select "Yes" for "Do you use a booking system for your availability?"
3. Select "Regiondo" from the "Booking system" dropdown menu.
4. Copy the "Regiondo Product ID" from the Regiondo Channel Manager and insert it in the "External product ID" field
5. For "What do you want to configure automatically?" select "Availability and price"
6.
"Add new pricing" for each GetYourGuide pricing category that you want synched with Regiondo.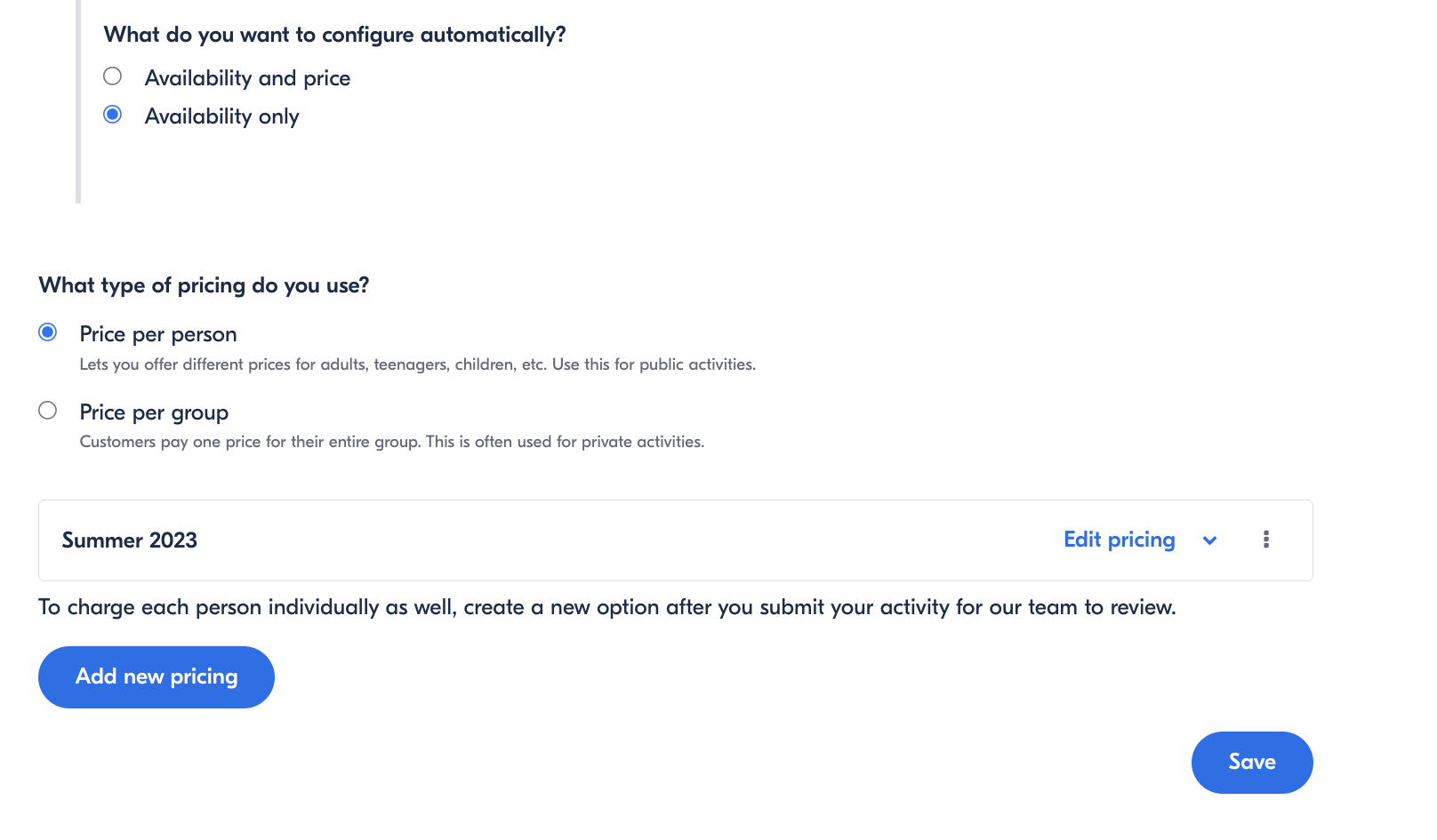 That's it! You're finally done. We know the original set-up is a lot of work and we will work with GetYourGuide to improve, but we hope you'll find it worth it.
What's next?
Now all bookings placed on GetYourGuide will automatically appear in your Regiondo dashboard in Booking Overview and you will be able to retrieve the booking information just like you can for your direct bookings. GetYourGuide provides the mobile phone number and email address of the participant(s).
Also, your availabilities will be synchronized in real time between Regiondo and GetYourGuide making over-bookings and having to manually adjust capacities a thing of the past.
How to manage GetYourGuide tickets
Please note that tickets sold via GYG must be scanned with the application provided by GYG.
Here is what a GetYourGuide ticket looks like