Integrating your ticketshop via a WordPress Plugin
You now also have the option to install Regiondo directly in your WordPress website in the form of a plugin.

First, you must determine whether you have created your website via wordpress.com or if you are using your own server. If you are using wordpress.com, your account will have to run on 'business rate' in order to install plugins.
1. If you run this rate or have installed the software on your own server, click on "Plugins" in your WordPress dashboard and search for "Regiondo" in the search bar.
There is also the option to download the Regiondo plugin as a file and install it manually in your WordPress dashboard.
Click here
to go to the download.
Note:
You can view more information about the plugin under "More details".
2. Click on "Install now". Instead of the "Install now" button, the "Activate" button should now appear.
3. "Regiondo widgets" will then appear as a separate menu item on your WordPress Dashboard.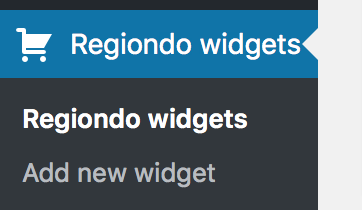 4. Click on "Add new widget". On the next screen, you'll be asked to enter a title and an iFrame code. Enter for example the title of the leisure offering you wish to add.
You must define a widget as a particular leisure product in order to be able to insert it in the relevant page later.
The iFrame code for your shop must be generated in your Regiondo dashboard.
Important:
In this case, a "booking widget" refers to a particular leisure offering. You must create a separate iFrame code for every offering you wish to display on your WordPress site.
5. Click on "Publish" to create the product as a widget.
6. You now have the option to insert your Regiondo offers into any of your WordPress posts, articles or pages.
To do this, simply click on "Add Regiondo widget" in the text editor of your WordPress account. A new window will open. Here, you can select which booking widget (product) you wish to add. A so-called "snippet" containing information about your offering will be inserted in your editor. When you publish the article, the ticket shop with the selected offering will appear in this place.
Tip:
There is also the option of using a code for the integration. Click
here
to find out more.