In the actions-log you find an overview about all changes made in the dashboard. There you can see which user did what actions exactly when.
New Action Logs
Within the refactoring process, new action logs are released. You can find the new action logs in your dashboard under Settings > Actions Log - new. In the new Actions Logs you will find all actions that have been carried out within new parts of Regiondo.
How to identify new parts?
You might have noticed that the new action logs page has a slightly different look % feel as well as new colors. All parts of the system with this new colors are considered as new and will appear in the new action logs.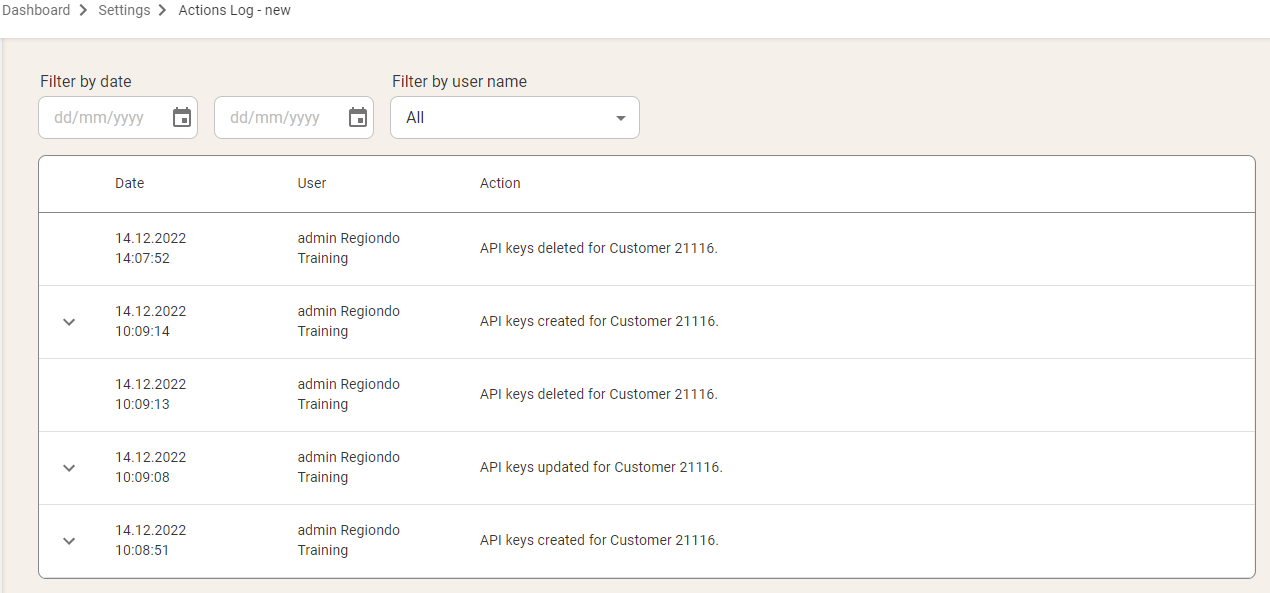 Attention
The old Action Logs do not track the new actions that have been carried out within the new service. Once all processes have been updated, no more actions are tracked in the old Action Logs.
What is new?
You can filter your actions by date.
You can filter by specific users.
To get more information about an action log, click on the arrow to expand the field.
Can I sort the actions?
Yes you can sort the actions-log for different Users. Simply choose the user you want to filter the actions-log for on the top right.
Which information can I find in the actions-log?
When you click on a particular action you will see what changes were made. We added some examples below:

1. For instance when a user created another user, for example a new guide for a city tour, you will see the following information:
- Account information
- product associations

2. When you change an offer you will see all changes which were made in the 7-Steps to create an offer.

3. As you can see in the picture below, changing a payment status will look something like this: