In order to be able to sell your offers on Viator or TripAdvisor, you must also be registered with Viator alongside your Regiondo account and set up your offers there.
In case you are not yet registered,
follow this link first
.
You can find general information about Viator
here
.
Important
The Viator connectivity allows you to exchange the following offer and booking information with them :
-
availability
- reservations
- bookings
- cancellations
Viator
does not
support:

- the exchange of prices or content from your products.
- the exchange of availabilities for offers requiring manual booking approval

Regiondo charges you a ticket fee for brokering your offers through Viator. You will find the amount of the fee in your agreement. Payment fee do not apply as they are handled over Viator.
Booking amendment
Booking amendment is available only for date change which means when Viator changes the appointment date, it will be automatically after validation displayed in Regiondo.

Important:
Changing the number of passengers is not supported by the API.
Link your Viator and Regiondo accounts
Next, click "Edit" next to the Viator Sales Channel.
Click on Activate Channel.
Once you have activated the Viator Channel, an email will automatically be sent to Viator with a request to link the accounts.

Once Viator has received your request, your Operator ID will automatically be filled within the Viator Channel in the box shown below.
Map your Viator tours to your Regiondo products in your Regiondo Dashboard
You should then map your Viator tour options to your Regiondo ticket categories.
Note
Regiondo allows you to create as many customized ticket categories as you need.
Viator, on the other hand, only offers a very specific set of standardized Tour Options for use with their system. This could make it a little tricky when it comes to mapping your options between the two systems, depending on how complicated your Regiondo setup is.

The Tour Options available to you in Viator are Adult, Youth, Child, Infant, Senior.
Important
Connecting an offer on Viator will not allow you to choose the option "per vehicle/group" (private groups). In order to solve this situation, you have to modify the offer in your Regiondo dashboard, and make it either for person or for a group. If it is a group, please specify in the offer description in Viator.
Select a Regiondo offer and map each Viator category name to your Regiondo ticket category using the dropdown menu.

Do not forget to Save your settings!
Warning
From that time, Viator will manually map their products based on the information you configured. This manual process takes time.
Viator will inform you directly by email once your offers are connected.

Your availabilities will not be synchronized until you received the confirmation email from Viator.
If you don't hear anything from Viator within 3 weeks, reach out directly to your Viator destination manager.
Advice:
Every Viator Tickets can be scanned with the Regiondo app.
Once your offers are connected, all bookings placed on Viator will automatically appear in your Regiondo dashboard. We will also inform you by email each time a new booking has been placed on Viator.
From now on you can view all bookings – regardless of sales channel – from your Regiondo account in Booking Overview.
On the booking page, you will be able to retrieve the booking information from your customer as usual.
Note
Viator provides you with the mobile phone number of the guest, but not an email address.
Note
Your available dates will be synchronized in real time between Regiondo Pro and Viator. This will make overbookings a thing of the past, also avoiding having to manually adjust capacities.
With this cooperation, you get access to international customers and the world market leaders of the travel industry.
All offers posted on Viator will also be listed for sale on Tripadvisor.
How to connect your offers in Viator?
01. Create your offer in Viator
02. Choose the offer you would link to Regiondo in Viator
You can only choose live products. So make sure that Viator approved the offer before you start the connection with Regiondo.

Click on Manage in order to edit your product:
03. Connect the availabilities on Viator with the ones in your Regiondo offer.
Go to "Product connection" and click connect.
Choose your Regiondo Offers in order to make the product mapping.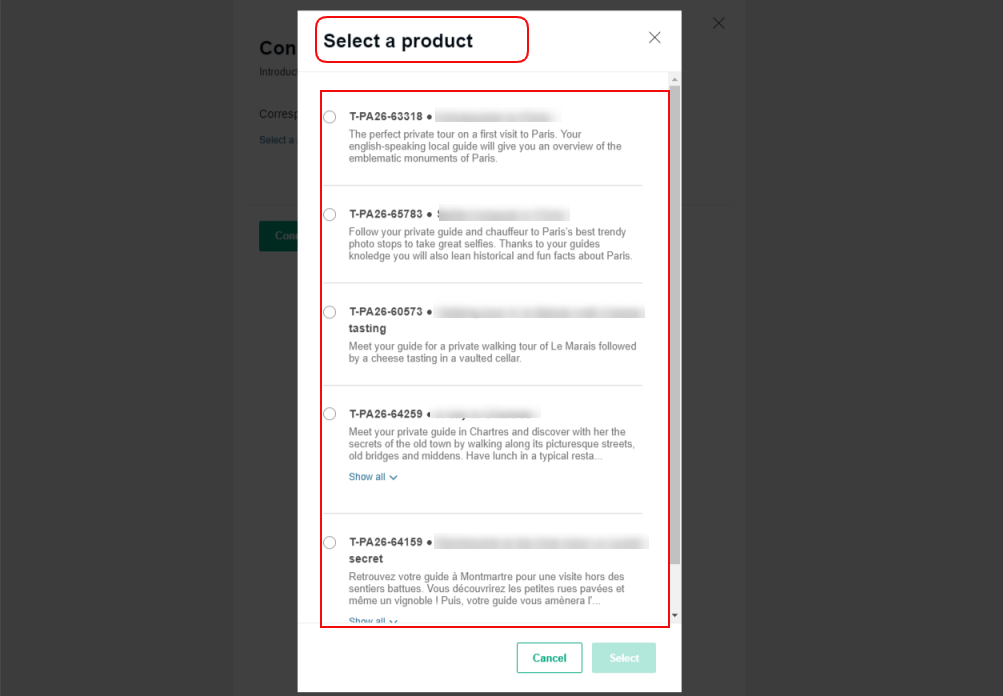 After can you can edit all your chosen availabilities and connect with the availabilities in your Regiondo System:


04. After connecting all availabilities, save and submit the data to Viator:
This finalizes the API connection with Viator for the specific offer. After the review, your offers will be available on Viator.
Watch the video in this text to get more detailed information about the process in Viator.
Multiple Viator Accounts
If you have multiple Viator account, you need to connect multiple Regiondo accounts to the channel manager. One Regiondo account can be connected with one Viator account.
Example of an activity on Viator
Example of an activity on Tripadvisor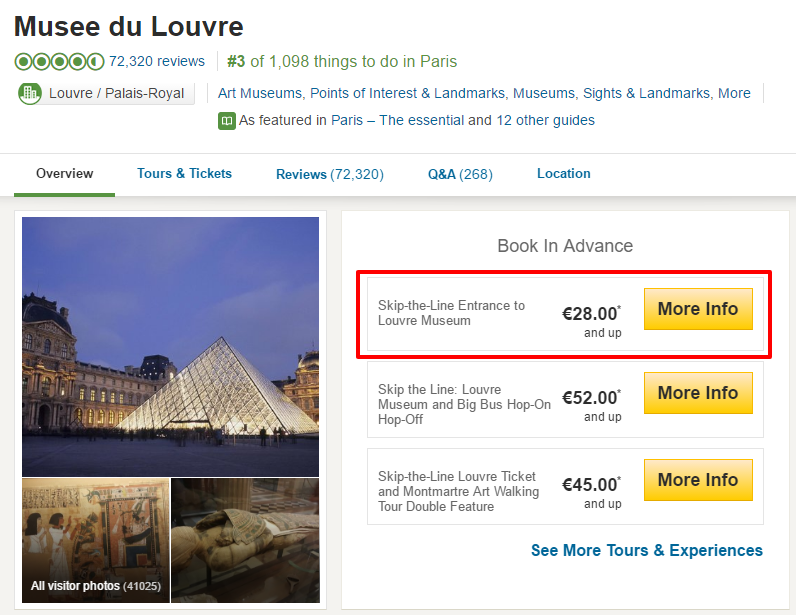 Fetch of availabilities
This depends on the setup of Viator for each operator. Please contact your Viator account manager if you want to know or to change.
Most of the time, the fetch of the batch availabilities takes place every 12 hours
Important
If you want to cancel a booking in Viator , the booking will not be considered as "cancellation" but simply as a "refund", in Viator.
These cases are very uncommon but can happen.
In Regiondo the booking will not change its status, therefore you need to contact our Support team (support@regiondo.com) to proceed with the cancellation of the ticket(s) on Regiondo's side.
How to Cancel a Booking on Viator
Managing bookings effectively is a crucial aspect of providing exceptional customer service and maintaining operational efficiency. When using Viator as your sales channel through the Regiondo platform, it's important to be aware of certain limitations regarding booking amendments, particularly related to changes in capacity. This steps will guide you through the process of canceling bookings on Viator, while also highlighting an important note regarding capacity changes.
Cancellation Process:

1. Login to your Viator account:
Access your Viator account by visiting their website and logging in using your credentials.
2. Locate the booking:
Navigate to the "Bookings" section within your Viator account and locate the specific booking you wish to cancel.
3. Select the cancellation option:
Within the booking details, you will find the option to cancel the reservation. Click on the cancellation button to proceed.
4. Follow the cancellation prompts:
Viator will guide you through the cancellation process, providing any necessary prompts or notifications. Ensure you carefully review the cancellation terms and conditions before finalizing the cancellation.
Important Note: Capacity Changes
Please note that, at present, Viator's booking amendment functionality does not support changes to the capacity of a booking. While you can cancel a booking, adjustments to the capacity are not available through Viator's system.
If you need to modify the capacity for a booking, we kindly request refunding and rebooking from Viator platform.
Canceling bookings on Viator is a straightforward process that allows you to efficiently manage your reservations. However, it's important to be aware that capacity changes are not currently supported within Viator's booking amendment options.