WineTourism.com is a leading marketplace for wine experiences around the globe, with more than 5,000 wine experience offered by selected professionals : https://www.winetourism.com.
Regiondo collaborates with WineTourism to support Wine Industry operators and assist them in expanding their market presence through easy online booking management.
If you are not a WineTourism partner
Create an account at WineTourism.com
If you have not already done so, your first step it to create an account with WineTourism.com by navigating to https://www.winetourism.com/users/login-as/
If you are already a WineTourism partner
If you are already a WineTourism partner and use Regiondo to manage your activities, here are the steps to connect your Regiondo products.
Step 1
Log in to your Regiondo dashboard. From the overview select "Channel Manager" > "Sales Channels" and search for WineTourism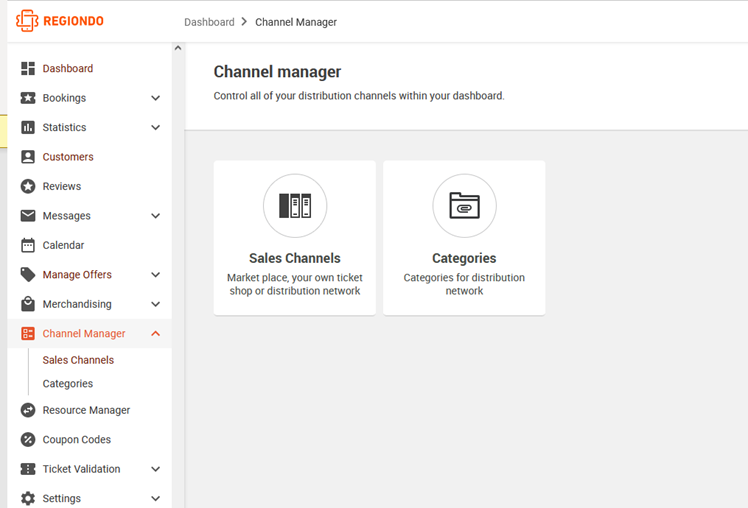 Step 2
Click on "Edit" (gray pencil icon) next to the Winetourism sales channel. When you click, you will access the WineTourism sales channel.

Step 3
Within the sales channel click on "Activate channel" and then flag the products you want to link by checking each box. Click "Save" when the operation is complete.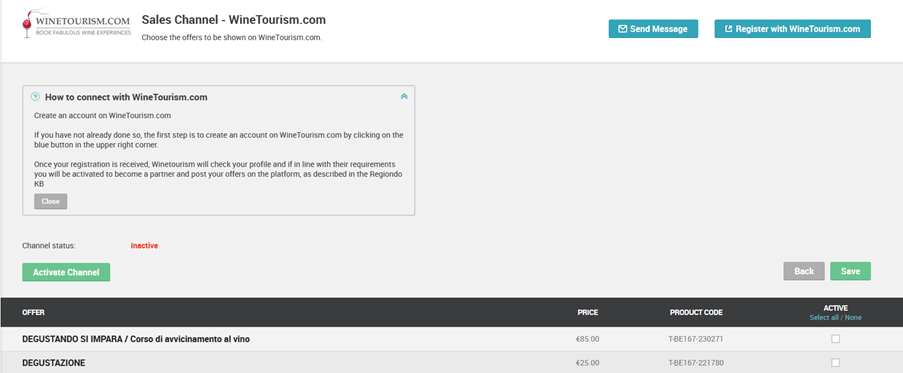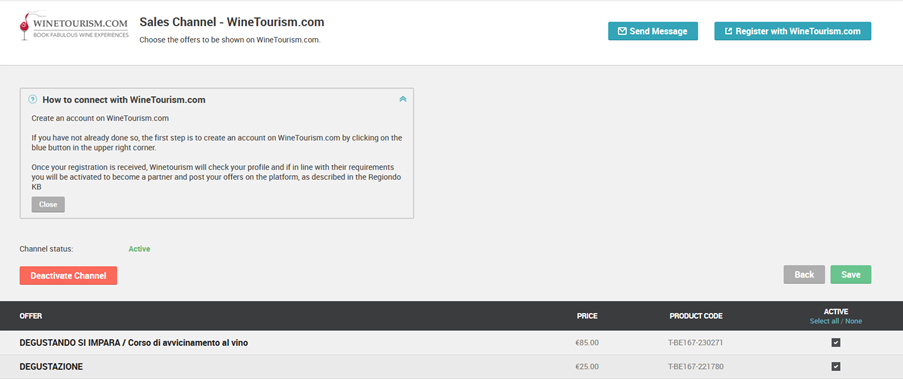 Important: From now on, for all reservations received on Winetourism, there will be a ticket fee determined by the agreements between you and Regiondo (Winetourism will not charge additional fees).

You can now import your experiences in your Winetourism profile to synchronize your products and options.
Import Experiences
To import Experience, please enter your profile page and follow the steps below:
On the left Menu bar Click "My Local Experiences"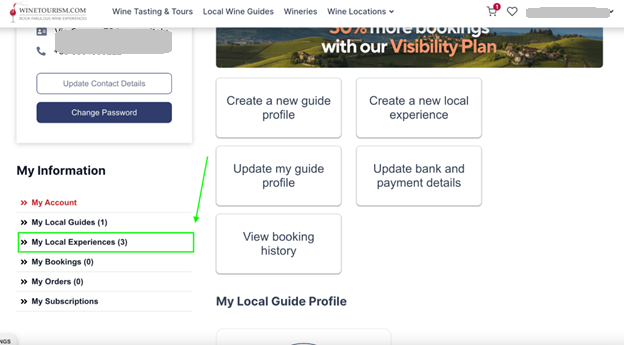 2. Click "Import a Local Experience" and choose "From Regiondo"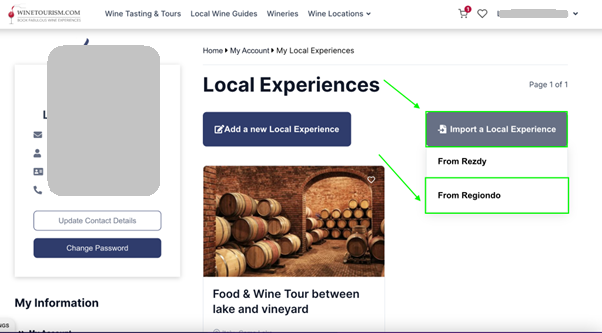 3. Choose your winery from the list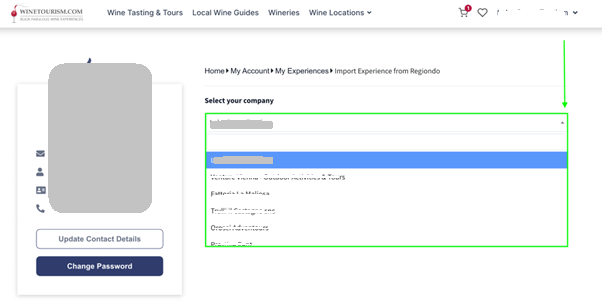 4. Click "Submit"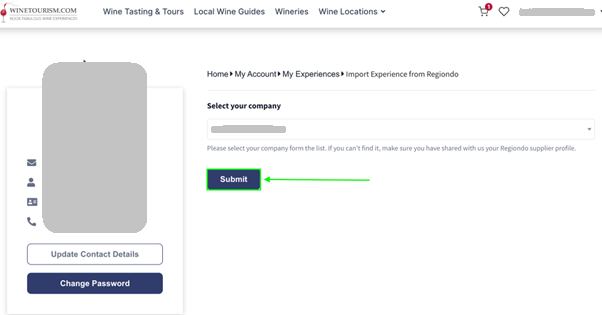 5. Choose your "Experience" and "Owner" and click "Import Experience"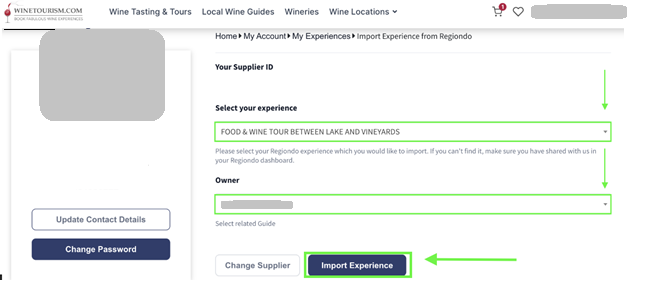 6. Fill in the "Experience Type" and "Type of traveler the experience is for"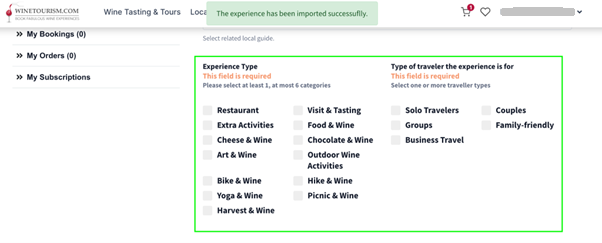 7. When fields are filled, click "Save & Close"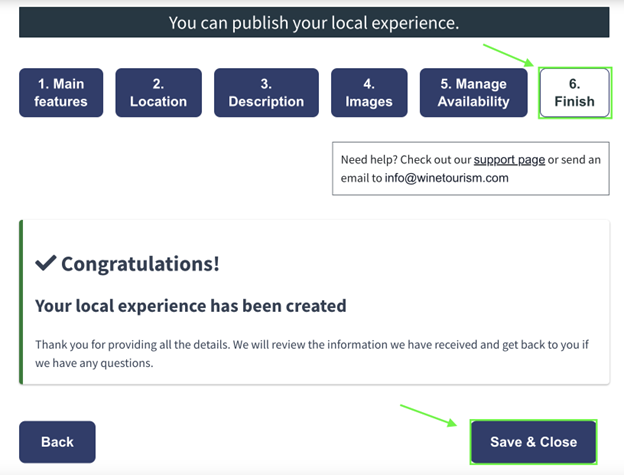 Once these steps are completed, your experience will be imported from Regiondo. Please note that after importing, you will need to wait for approximately 1 hour to allow all the information to synchronise between our platforms.

If you have any questions, feel free to contact WineTourism: booking@winetourism.com